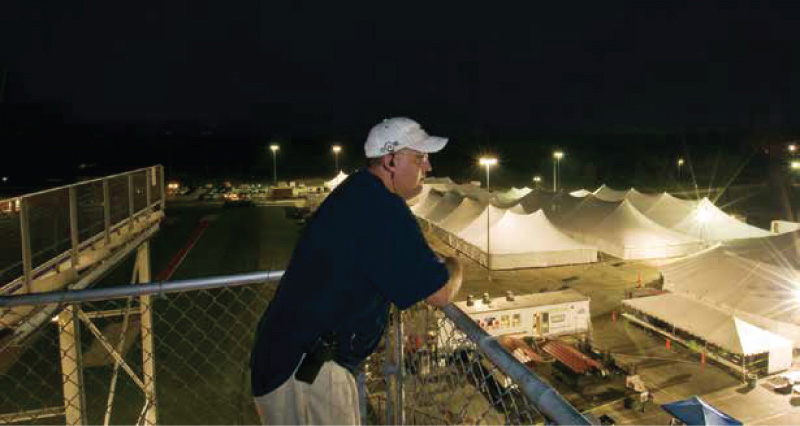 The origins of Swadley's Emergency Relief Team stretch back to the 1999. An ice storm had covered much of central and northwest Oklahoma in a sheet of ice. It was the middle of the night. Tree limbs and transformers could be heard exploding under the strain of ice. There was no electricity and Brent Swadley was fast asleep. Until the phone rang.
He picked it up. "Is this Swadley's Catering?" the voice on the other end asked. "I need 700 meals by 7AM in Enid, Oklahoma." It was OG+E. They were sending hundreds of linemen to Enid to get the power back on.
Many men would've politely declined this difficult challenge, but not Brent Swadley. He said, "you bet," wiped the sleep from his eyes and got on the phone to suppliers and trusted team members across town. In a matter of minutes, he was loading eggs, biscuits and other breakfast classics at Ben E. Keith, then hit the road for Enid, through ice, snow and darkness. He cooked with a flashlight in the dark and was ready to serve at 7:30 sharp.
Brent was beaming with pride, having pulled off the impossible. That's when the OG+E client approached, looked at the miracle Brent had managed, and said, "This is the last time you'll be late!"
Well, he was right!
Responding to Major Disasters
Since that humble beginning, S.E.R.T. has grown, learned and become a well-oiled machine, responding to disasters and helping manage emergency relief efforts across the country. S.E.R.T. provides clients with customized, strategic plans to meet the challenges of logistics presented during emergency restoration operations.
Our on-site coordinator (OSC), will work closely with you to ensure all your logistical needs are met:
On-Site Management Consulting
Supply & Resource Management
Full Turn-Key Staging
Catering & Food Service
Lighting & Power
Transportation
Lodging
Sanitation
Laundry services
Heating & Air Conditioning
Safety & Security
Full Services
S.E.R.T. provides catering services utilizing a fleet of mobile semitrailer kitchens capable of serving over 3,000 people three meals a day.  We make crucial decisions alongside every client that are integrated with city, county, and state regulations in regard to OSHA, NIMS, and other regulatory agencies and action plans. In addition, we provide reconstruction:
Our mission is to unemploy our services by returning the client to a state of normalcy.
Who We Serve
When disaster strikes, local communities launch into recovery mode. Those first responders – whether linemen, utility workers or the cities themselves – need support. That's where S.E.R.T. comes in. We provide comprehensive camps, infrastructure, lodging, food and more for:
National companies
Municipalities
Public Utility Companies
Universities
Other Entities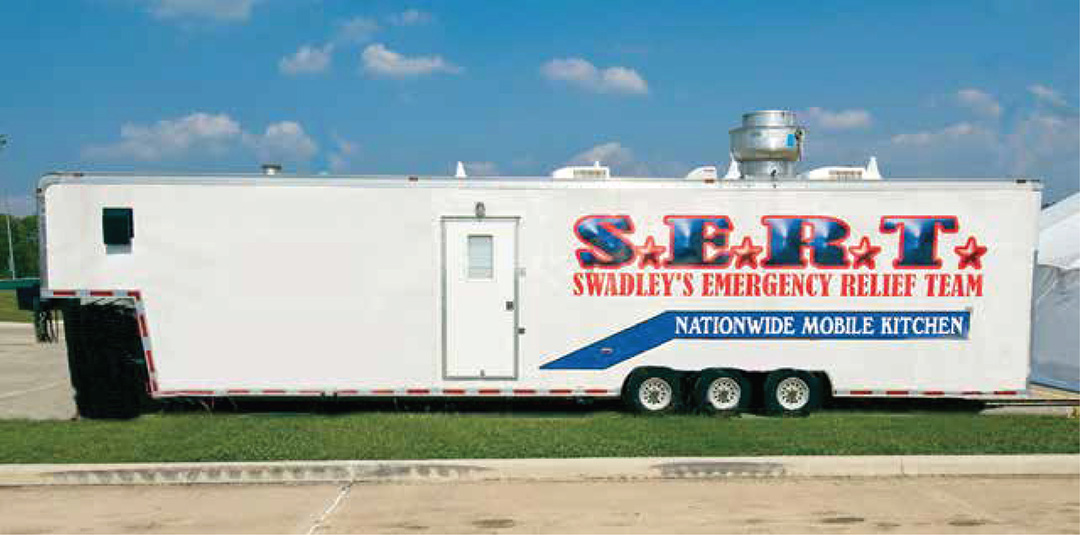 Where We Serve
Since S.E.R.T.'s origins in 1999, we have traveled across the continental United States and beyond, providing mission-critical support.
Nick 2021: Houston, TX (3 sites)
Laura 2020: Port Arthur, TX
Harvey 2017: Houston, TX
Ike 2008: Montgomery, TX & Natchez, MS
Gustav 2008: Natchez, MS
Rita 2005: Orange, TX & Sabine Pass, TX
Katrina 2005: Beaumont, TX
Enid, OK
Midwest City, OK
Oklahoma City, OK
Muskogee, OK
Checotah, OK
Norman, OK
Tulsa, OK
Chickasha, OK
El Reno, OK
Russellville, AR
Ft. Smith, AR
Joplin, MO
Little Rock, AR
Moore, OK
El Reno, OK
Seminole, OK
Shawnee, OK
Enid, OK
Midwest City, OK
Oklahoma City, OK
Muskogee, OK
Checotah, OK
Norman, OK
Tulsa, OK
Chickasha, OK
El Reno, OK
Russellville, AR
Ft. Smith, AR