Everything you could imagine needing – and more.
Over the decades of providing emergency relief and disaster reconstruction services, we've seen it all and handled it all. This experience has also honed S.E.R.T. into a fine-tuned machine.
Please bear in mind we can provide as much or as little of these services as your circumstances warrant.
On-Site Management Consulting
Determining risk management needs
Assisting in locating necessary resources
Determining best way to meet client needs
Providing action plans
Integrating local, state and federal guidelines
Managing day-to-day operations
Supporting client's personnel from start to finish
Provide staging, site plans and diagrams for temporary or permanent sites
Supply and Resource Management
Locating resources and products
Sourcing supply and resource needs via growing list of active contacts
Providing clients with available acquired resources and products
Providing day labor, accounting, procurement and administration personnel and services
24/7 risk management hotline to directly address any questions or additional services
Full Turnkey Staging
Management of all elements listed above
Acceptance of liability and responsibility for entire recovery
Assistance in repairing collateral damage
Emergency logistics management
Nationwide risk management resources
Registered dieticians and nutritionists
$12M insurance coverage policy
Certified safety management
OSHA certifications
Infrastructure
S.E.R.T. offers logistics expertise to provide the right equipment for your job in a timely manner. From lodging and refrigeration trailers to buses and laundry service, we have – or can swiftly locate – all necessary equipment.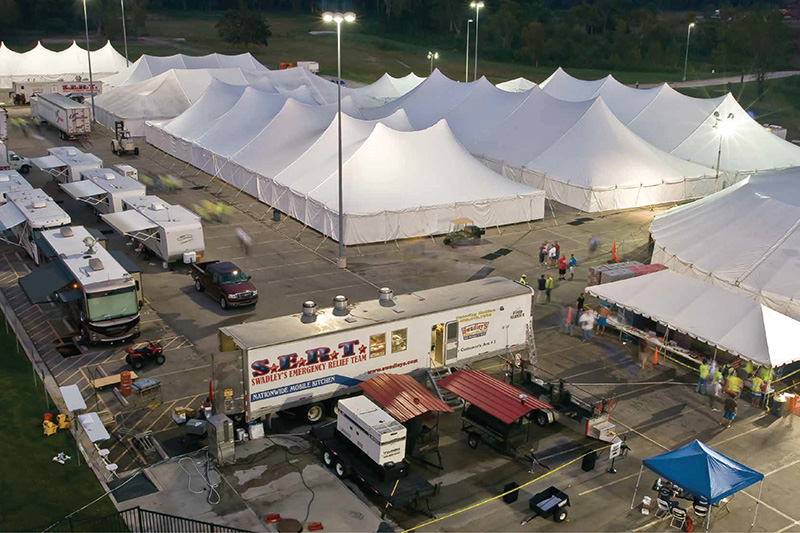 Swadley's Emergency Relief Team offers the comforts of home to hardworking crews. Our sleeping quarters tents are carpeted, heated or cooled, and each cot is fitted with bedding and a pillow. Our camps are always laid out to offer easy access to showers, dining tents and restroom facilities.
Lodging Tent
Bunk Bed Trailer
Individual Bunks
Tents
Climate Controlled Structure Tent
Lodging Tents
Pole Tent
Dining Tent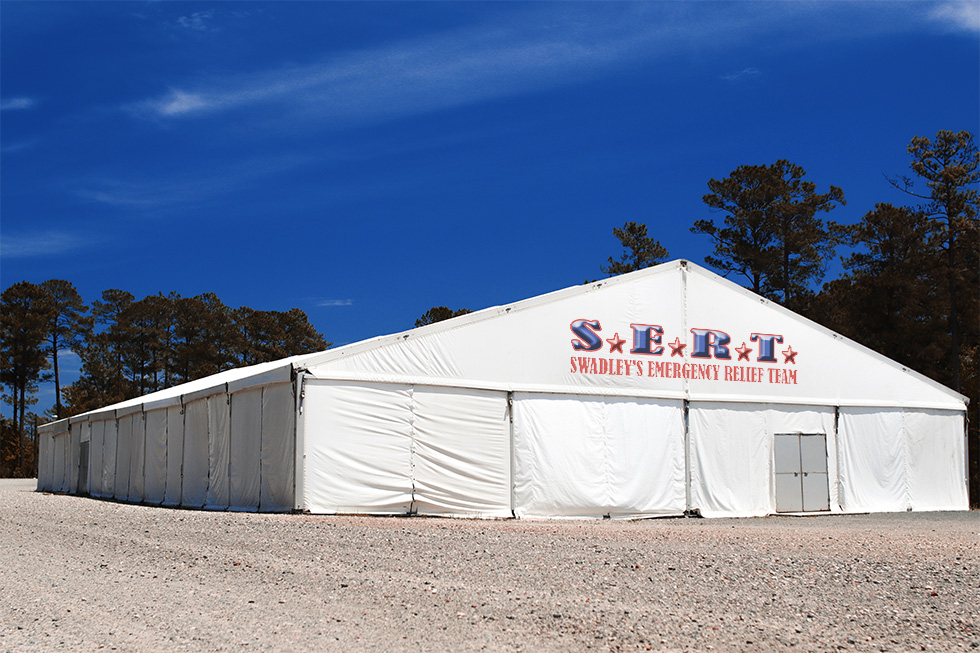 Mobile Communications
Remote Offices
Supply Store
Modular Office Units
Long reach forklift
Water tanker
Lighting & Power
Mobile Generators
Light Towers
Heating & Air Conditioning
Full-Service or Self-Service Laundry Service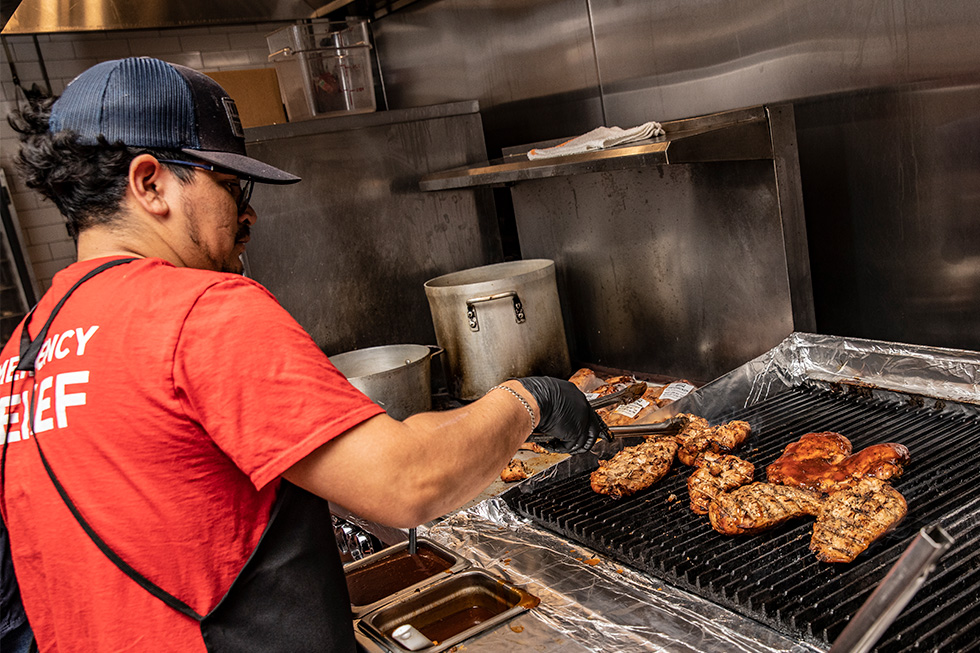 Catering & Food Service
Down-home country cooking is the best way to describe the S.E.R.T. kitchen. Food is steaming hot, delicious, satisfying and always ready when the dinner bell sounds. Breakfast, lunch, dinner and even midnight snacks when needed.
Swadley's on-staff dieticians meet special food needs for diabetics and those with other dietary restrictions. Our meals are varied and exciting, with everything from box lunches to steak dinners. Meals and service are organized to handle large volumes quickly and efficiently.
Mobile kitchens
Temperature controlled dining tent
Temporary kitchens
Chairs & tables
Climate controlled kitchen
Water & Ice
Coffee Service
Traditional Breakfast
Continental Breakfast
Cold or Hot Cereals
Breakfast with Scrambled Eggs
Fresh Fruits, Juice & Coffee
Boxed Lunches with Sandwiches, Chips, Fruit & Cookies
Artisan Subs
Fresh Salad Bar
Hot Dogs & Hamburgers
Chicken Fajitas
Fried Catfish
Turkey and Dressing
Brisket & World's Best Sausage
Rib Dinner
Cheeseburger and Fries
Steak Dinner
Fresh Salad Bar
Grilled Pork Chops
Pot Roast
Spaghetti
Southern Fried Chicken
Transportation
SERT provides a unique and wide range of vehicles to meet your transportation needs.
Buses and Shuttles
Our extensive vendor network of transportation suppliers can be utilized from staging areas to lodging facilities.
Truck/Trailer Leasing
We can provide all client needs, from refrigerated units to storage units.
Mobile Command Centers
RVs, campers, trailers (industrial/residential) and more.
Re-Fueling Trucks
Golf Carts
Shuttle Van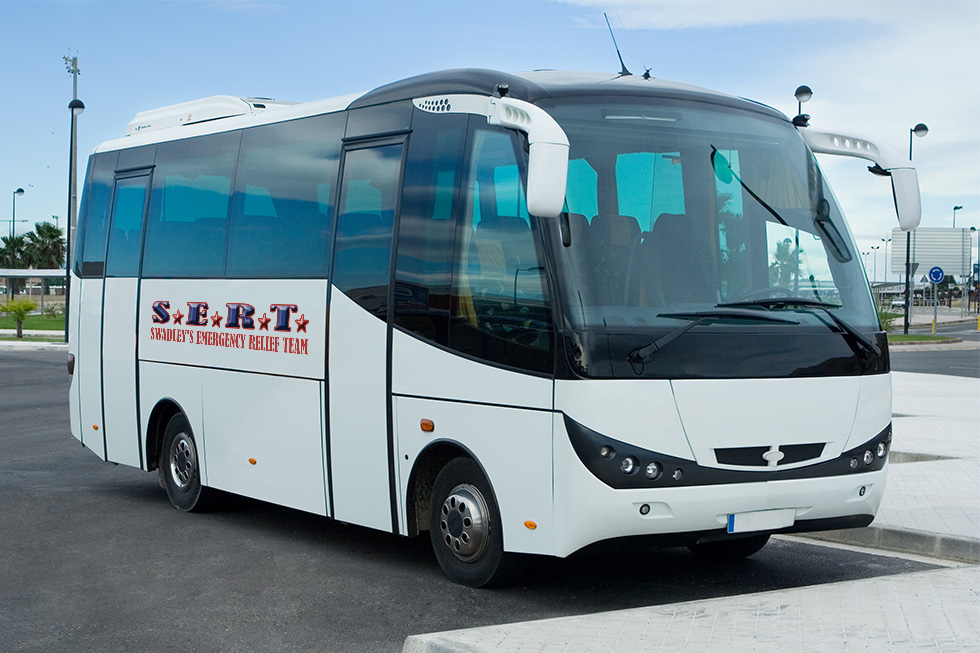 Safety,  Security & Sanitation
First Aid/Medical
Swadley's Emergency Relief Team offers basic first aid assistance. With preparedness being the key element of first aid, we maintain basic medical emergency kits. For major emergencies a list of local numbers will be available. Lighting, fencing and command centers improve safety and security.
Mobile Command Centers
Fencing
Waste Removal
Shower Stalls
Hand-Washing Stations
Portable Toilets
Deluxe Portable Restrooms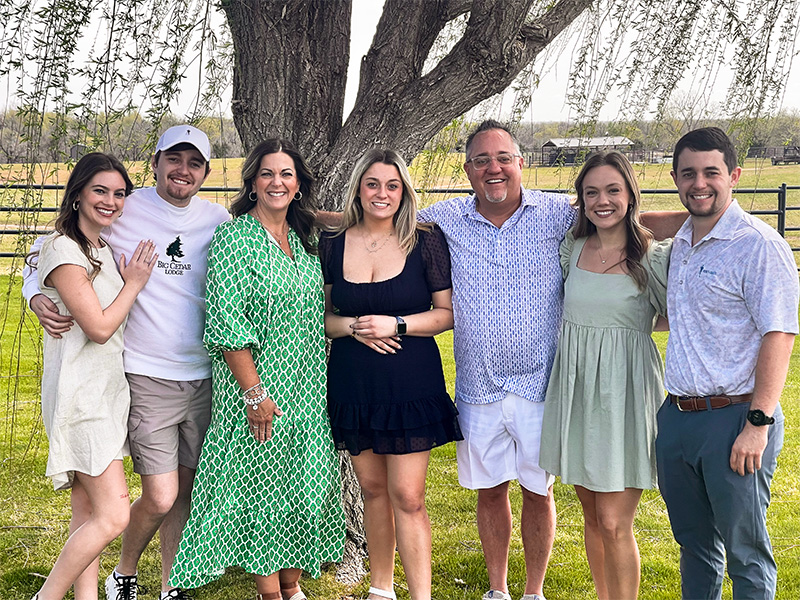 Swadley's as you know it today got its start in the late 90s. Since the beginning, we've been all about living by faith, feeding families and being an integral part of our communities.