The Swadley Pitmaster's Promise:
The best meats, responsibly raised and smoked to perfection over 100% Oklahoma hickory right here on the premises – and right before it's served to you.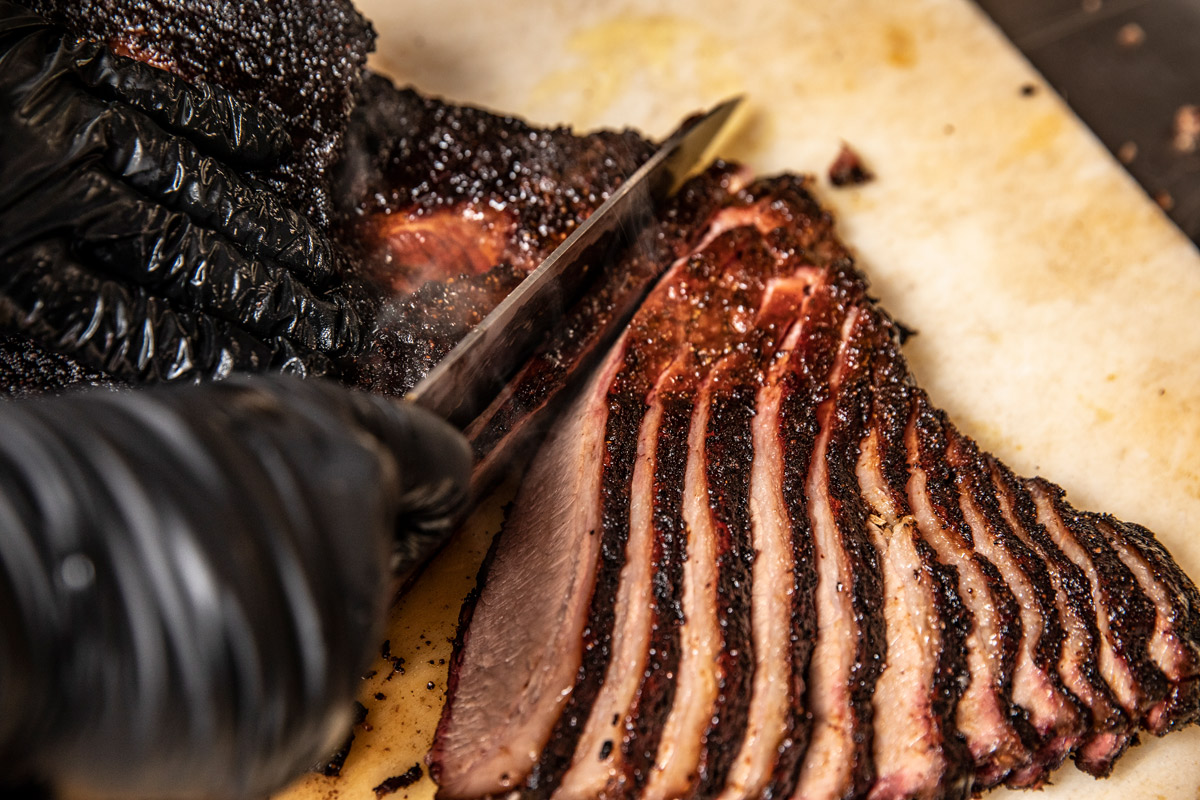 No shortcuts. No fakin'. No reheatin'.
No one else comes close.
The Best of Three Worlds
Some Bar-B-Q joints limit themselves to one regional style, but at Swadley's, we know there are different lessons and flavors of perfection to be found in each:
Texas smoke, simplicity and patience.
Memphis-inspired color, flavor and rubs.
Kansas City zing and sweetness.
Swadley's has perfected the right mix for each meat in what we've dubbed Oklahoma style.
We understand Bar-B-Q tradition. Pitmasters have their secrets, and they take them to the grave. But we operate a little differently. We want to invite people everywhere to our table. So, our pitmaster personally passes on his secrets, training and certifying each and every smoker and cook statewide. That's why – unlike other BBQ places – no matter which Swadley's you visit, we guarantee Pitmaster Swadley's uncompromising commitment to smoky, sweet, falling-apart perfection.
We've strived to answer the question: can you truly replicate world-famous, craft Bar-B-Q? Yes. It isn't easy, but with patience, dedication and tireless knowledge transfer, it is possible. 
The Meats
In truth, the main recipe isn't much of a secret: hickory smoke, salt, spices and a whole lot of time and love.
The Sides
At Swadley's, we don't let the tender, hickory-smoked meats overshadow the sides. There's so much down-home southern cooking to love here – and we recommend you try it all.
Find Your Swadley's
Get your BBQ fix at eight locations across the OKC Metro and beyond!
Find Your Flavor
Swadley's offers up one of the most diverse selections of southern homestyle cooking around, from BBQ and steaks to burgers, salads, catfish and more.
Join our Family
We believe we are where we are today because of the great people who make up Swadley's. We are family owned and operated, and want you to be a part of our family too.
Make It A pArty
Bar-B-Q is the ultimate food to feed a crowd, and we've perfected the art of doing just that. If you've got a group of 30 or more, we can fill them up with Oklahoma's best BBQ.